Share this URL: http://instagram-marketing-course-may2018.peatix.com
Event is FINISHED
Instagram Marketing for Beginners (SkillsFuture Eligible)
Here's a short video to share on what you can expect at our workshops :)

Time: 10am to 6pm | Max. 6 Participants
Hands-on INSTAGRAM Marketing Workshop, 80% of the workshop consist of hands-on activities.
Course code on SkillsFuture Directory: CRS-N-0044836


Would you like to grow your business with INSTAGRAM Marketing?

Course Objectives:
How Instagram Marketing has worked for businesses, and how business can strategize better on this platform. Learn from Case Study, and apply the key strategies to your Instagram Campaigns. Learn how to design stunning graphics and creative videos for your Instagram account with your mobile!
What will be taught in this Hands-on INSTAGRAM Marketing Course?
1. Introduction to the POWER of Instagram Marketing
(a) Instagram VS Facebook Marketing: How are they different?
(b) Why Instagram Marketing? - Statistics about Instagram Platform
(c) Common mistakes made on Instagram Marketing
(d) Common mistakes made on Instagram Advertising
(e) Key strategies to an appealing Instagram Profile
(f) Authentic real world case study: Types of posts that higher engagements on Instagram
(g) 3 ways to grow your instagram followers

2. Brainstorming Activity
(a) A buyer's journey on social media platform: INSTAGRAM
(b) Brainstorm & Consult with Trainer

3. Hands-on activity: Design & Plan your Instagram Strategy and Posts with Microsoft PowerPoint / Macintosh Keynote
(a) Resources and guide on designing quality graphics for your Instagram Social Media Feed: FREE icons, FREE images.
(b) Guide on how to use PowerPoint to design Instagram Graphics
(c) Resources to edit videos for your Instagram Profile with FREE Video Apps
(d) Participants hands-on to design 2 Instagram Graphics


4. Hands-on activity: Video Editing an Instagram Video with FREE Video Apps
(a) Design Graphics for your video
(b) Storyboard and Plan your video content
(c) Create a video that has a mixture of Graphics and Video (30 to 45 second video)

5. Create/Convert an Instagram account into a Business Instagram Account (with analytics, insights and advertising abilities)
(a) Keyword copywriting tips for better conversions
(b) Understand FEATURES VS BENEFITS
(c) Start posting your graphics and video on Instagram
(d) Post your graphics/videos on Instagram Instagram Marketing VS Instagram Advertising
(e) Boost a Post in Instagram (with Advertising Budget)
(f) Instagram Analytics and Insights
(g) Learn how to use hashtags, and trending hashtags
(h) How regular should you be posting?
(i) How much should you budget for Instagram Advertising?

6. Final Question and Answer + Consultation with Trainer


By the end of the course, you will be a better Marketer on INSTAGRAM, able to design graphics with PowerPoint/Keynote, grow your audience and increase your ROI on Instagram Marketing and Advertising.


What you'll need to bring to class:
• Laptop & Charger
• Mouse & Mouse Pad
• Smartphone with Instagram App Installed

Pre-requisites prior to signing up for the workshop:
• Owns a personal Instagram Account.
• Have been using Instagram - Personal / Business Account

Note: If you do not meet any of the pre-requisite requirements above, please email us at workshops@skycrm.asia and we will assist to advise if the course is suitable for you.

During the course, we will be sharing with participants a FREE to use web-based design software to design 2 types of Social Media posts for INSTAGRAM.

a) Brainstorm and design a 1080px by 1080px graphic
b) Brainstorm, Storyboard and design a 1080px by 1080px graphic to be added as a carousel post.


This is a Certificate Workshop. Receive a Certificate of Completion upon completion of the workshop from Sky Digital Agency.

As seats are limited due to small class size, we recommend for participants to register early.
Most preferably 3~4 weeks prior to course start date.
To pay for the course with your SkillsFuture Credits, email us at: skillsfuture@skycrm.asia
This workshop is SkillsFuture Credit Eligible.
Who can apply? - Singaporeans aged 25 years and above.
This workshop is SkillsFuture Credit Eligible. As of Jan 2016, every Singaporean (25 years old and above) has $500 SkillsFuture Credits. No cash is required, if you have sufficient SkillsFuture Credits,

Course code on SkillsFuture Directory: CRS-N-0044836
Email us at skillsfuture@skycrm.asia for payment instructions to pay us directly with your SkillsFuture Credits.

Details we will need for SkillsFuture Credit participants:
1. Name as in NRIC:
2. NRIC:
3. Mobile:
4. Email:
5. Home Address:

P.S. For company sponsored employees, companies get to claim $2/hour from SkillsConnect's Absentee Pay Roll.
- - - - - - - - - - - - - - - - - - - - - - - - - - - - - - - - - - - - - - - - - -




For more digital marketing videos available on our YouTube channel: https://goo.gl/4Z5eeu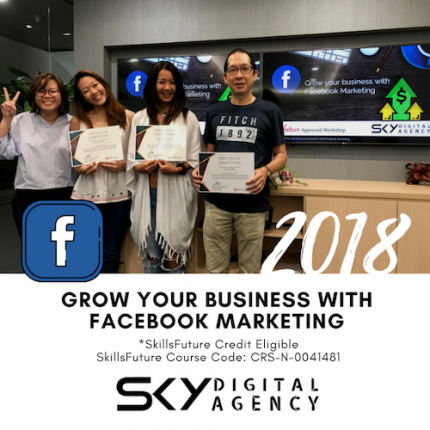 About the Trainer
Charmaine is the Creative Director of Sky Digital Agency and The Good Designers.
She has been conducting training since 2015, equipping her clients in Facebook Marketing, Search Engine Optimization (SEO) & Email Marketing, and other key digital marketing topics. Till date, she has conducted more than 1,000 hours training.

Charmaine makes learning interactive, practical and fun. She enjoys breaking down complex topics to help participants gain better understanding on Facebook Marketing, SEO & SEM, Infographics Design and more!
She strongly believes that the training industry needs more courses and training with smaller group of participants that allows them a more conducive environment to learn, ask questions, and have more 1-to-1 time with the trainer.

Other SkillsFuture Credit Eligible Courses under Sky Digital Agency
✓ Email Marketing with MailChimp (for Beginners)
✓ Grow your business with Facebook Marketing
✓ Advanced Facebook Ad Manager Tool Course
✓ Instagram Marketing for Beginners + Social Media Ads with PowerPoint (Bonus Content)
✓ Content Marketing for Social Media and Websites
✓ Integrated Facebook Marketing for Business and E-commerce Owners
✓ Integrated MailChimp Email Marketing for Business and E-commerce Owners
✓ SEO Internet Marketing for Beginners
✓ Google Analytics Course for Business and WordPress Website Owners

Enquire with us at workshops@skycrm.asia

Connect with us on:
Facebook | Instagram | YouTube | Website

- - - - - - - - - - - - - - - - - - - - - - - - - - - - - - - - - - - - - - - - - - - - - - - - - - - - - -
Here are some generous workshop reviews our participants have left us on our Facebook Page on how our workshops have helped them be a better marketer for their work, business, and startup:
You can also read even more testimonials on our workshops on our Facebook Page Reviews


FAQs
1. Who can i contact should i have questions?
You may e-mail us at workshops@skycrm.asia


2. Is there a minimum class size to proceed?
Yes. We require a minimum class size of 3 people to proceed with the class.
In the event that there are insufficient participants, we reserve the right to reschedule the class. Under such circumstances, we will inform you no later than 3 working days before the event.

3. Where is the venue of the workshop?
6 Raffles Quay, #15-00, Singapore 048580

Nearest MRT: Raffles Place, take exit "i". Rain proof location from Raffles Place MRT.
The building 6 Raffles Quay is just beside Ascott at Raffles Place.

Our office is also 3 min walk from Downtown Line Exit A, just after Hong Leong Building.

4. I'm driving, where can I park?
There is parking space at the building 6 Raffles Quay itself at $2.50 per 30 min block.
For weekend classes, we recommend our participants to park at SGX Centre, at $3 per entry.

For Corporate Training Enquiries, please email us at trainings@skycrm.asia on your requirements, and we will be in touch with you within 2 working days.
read more
Updates
The event description was updated. Diff#334661

2018-05-02 04:20:18
More updates
Fri

May 18, 2018
10:00 AM
-
6:00 PM
SGT
Add to Calendar
Venue

6 Raffles Quay, #15-00, Singapore 048580
Tickets

Regular Ticket

SOLD OUT

$388.00

$360 (SkillsFuture Credits)

FULL
Venue Address

6 Raffles Quay, #15-00, Singapore 048580

Singapore
Want to find more groups and events like this?